สรุปข่าวเศรษฐกิจอินเดียประจำวันที่ 19 เมษายน 2556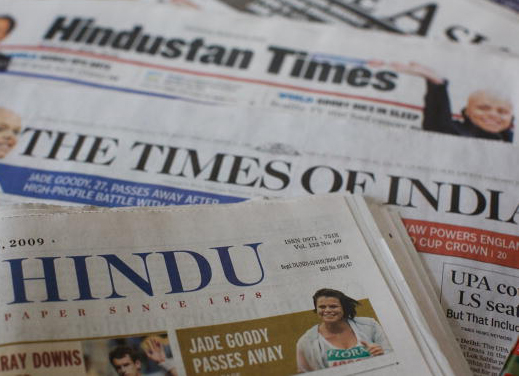 Indian economy to grow at 6.4% rate in 2013: United Nations
Indian economy is likely to grow at 6.4 % rate in 2013, outpacing the 6 % expansion in developing Asia-Pacific economies in the same period, a United Nations report on Thursday said.
Unveiling the report here, Prime Minister's Economic Advisory Council (PMEAC) Chairman C Rangarajan said: "India's economic growth in 2013-14 will be better than 2012-13, but will be lower than the pre-crisis level. We need to organise ourselves to go back to pre-crisis level of growth rate."
According to International Monetary Fund (IMF), Indian economy is projected to grow by 5.7 % in 2013 calendar year. Economic growth in FY'13 is expected to be at decade low of 5 % due to global slowdown, according to estimates.
In the Budget, Finance Minister P Chidambaram had said the government was targeting a growth of 6.1-6.7 % for the current fiscal.
(Sources: Economic Times, Zeenews, Outlook, Moneycontrol, Indian Express, India Everyday)
Land norms eased for SEZs to rekindle investors' interest
Amid dwindling interest in SEZs, the government today announced a "package of reforms", including easing of land requirement norms and an exit policy, to rekindle investor interest in Special Economic Zones.
SEZ, once a major attraction for investors, lost the sheen due to certain provisions in the proposed direct tax regime (DTC) besides the global slowdown.
Announcing the supplementary foreign trade policy (FTP), Commerce and Industry Minister Anand Sharma said the government has taken note "of the fact" that there are acute difficulties in aggregating large tracts of uncultivable land which is vacant to set up SEZ.
For multi--product SEZ, minimum land requirement has been brought down from 1000 hectares to 500 hectares and for Sector-Specific SEZs, it has been brought down to 50 hectares.
Also, there would be no minimum land requirement for setting up IT\ITES SEZs, besides easing of minimum built up area criteria.
(Sources: Economic Times, Business Standard, Financial Express, Zeenews, India Everyday)
Indian gems and jewellery market worth $ 30.1 billion: Report
The domestic gems and jewellery market is estimated at $ 30.1 billion, according to a report by coloured gemstone producer Gemfields.
Coloured gemstones in India have a market share of 8 %, preceded by diamonds with a market share of 15 %, the report said.
Quoting Gemfields Chief Executive Officer Ian Harebottle, the report said growth of coloured gemstones has touched an all-time high, and its demand in India alone had gone up by 50 % a year over the last four years.
"We expect this percentage to grow higher in the coming years," he said, adding overall acceptance, demand and popularity of gemstones in India has risen significantly.
(Sources: Economic Times, Indiatimes, Moneycontrol, Invest India, i4u, India Everyday)
India is not imposing restrictions on investments: Chidambaram
Finance Minister P Chidambaram today rejected suggestions that India is imposing restrictions on investments and said the country's economy is opening up in a gradual manner. Steel, power, roads, airports, seaports, all this is open. Therefore, there's a huge opportunity for investors.
Observing that India has opened up 90 % of its economy in the 22 years of liberalisation since 1991, Chidambaram said that the country could become a "giant economy" if it grows at 8 % continuously for seven-eight years.
Chidambaram is currently in Washington to attend the annual Spring meeting of the International Monetary Fund (IMF) and the World Bank.
(Sources: the Hindu, Zeenews, Hindustan Times, India Today, Economic Times, India Everyday)
Anand Sharma favours raising FDI ceiling in defence, insurance sectors
Commerce and Industry Minister Anand Sharma today 'strongly' favoured raising foreign direct investment (FDI) ceiling in the defence sector so as to boost manufacturing locally.
Announcing the annual supplement of the Foreign Trade policy, Sharma also made a case for increasing the FDI cap in insurance from 26 % to 49 %, a bill for which is pending in the Rajya Sabha since 2008.
Currently, only 26 % FDI is permitted in the defence production, which the Department of Industrial Policy and Promotion (DIPP) is proposing to raise to 49 %.
The country is one of the largest defence importers in the world with a minuscule component of exports. It imports over USD 8 billion worth of defence equipment, and the expenditure is increasing at an average of 13.4 % annually since 2006-07.
(Sources: Financial Express, Indian Express, Zeenews, Livemint, Hindu Business Line)
Volkswagen aims to double market share to 7 pc by 2018
German auto major Volkswagen is eyeing to more than double its market share in India to up to 7 % by 2018, when it aims to become the largest car maker in the world.
Globally, the company has announced its ambition to become the number one car maker by 2018. According to Society of Indian Automobile Manufacturers (SIAM) data, passenger car sales in India during 2012-13 stood at 18, 95,471 units.
The group had last year announced investment of over $ 130 million in India over two years for upgrading products and existing facilities. It has two manufacturing facilities at Chakan and Aurangabad.
(Sources: Indian Express, Zeenews, the Hindu, Hindu Business Line, Business Today)
Economic Section
Royal Thai Embassy